February 8, 2016 – Introduced by Representatives Nerison, R. Brooks, Kleefisch, Kulp, Skowronski and Tauchen, cosponsored by Senators Marklein, Miller and Vukmir. Referred to Committee on Criminal Justice and Public Safety.
AB876,1,2 An Act to create 192.32 (1) (c) of the statutes; relating to: pedestrians crossing railroads.
Analysis by the Legislative Reference Bureau
Under current law, with certain exceptions, no person may enter or remain on railroad tracks. The prohibition does not apply, among other things, to the use of public highways or to a person driving across a railroad from one part of the person's land to another.
This bill provides that the prohibition on entering or remaining on railroad tracks does not apply to a person walking directly across the tracks or right-of-way of a railroad.
The people of the state of Wisconsin, represented in senate and assembly, do enact as follows:
AB876,1 Section 1. 192.32 (1) (c) of the statutes is created to read:
AB876,1,5192.32 (1) (c) To prevent any person from walking directly across the tracks or right-of-way of any railroad.
AB876,1,6(End)
192.32  Trespassing on railroad.
192.32(1) (1) No person, other than a licensee, authorized newspaper reporter or person connected with or employed upon the railroad, may walk, loiter or be upon or along the track of any railroad. The provisions of this subsection shall not be construed to do any of the following:
192.32(1)(a) (a) To interfere with the lawful use of a public highway by any person.
192.32(1)(b) (b) To prevent any person from driving across any railroad from one part of that person's land to another part thereof.
192.32(1)(d) (d) To interfere with the use of the right-of-way or track by any person in connection with, either directly or indirectly, the shipping, loading or unloading of freight, seeking employment, the investigation or securing of evidence with respect to any accident or wreck or in conducting or transacting any other business for or with the railroad.
192.32(1)(e) (e) To interfere with the entry of any employee during or on account of labor disputes by employees.
192.32(2) (2) Each railroad corporation shall post notices containing substantially the provisions and penalties of this section, in one or more conspicuous places in or about each railroad station.
192.32 History History: 1993 a. 482, 490; 1997 a. 254; 2001 a. 38; 2005 a. 179.
An Act to create 192.32 (1) (c) of the statutes; Relating to: pedestrians crossing railroads.
Status: Criminal Justice and Public Safety
Important Actions (newest first)
| | | |
| --- | --- | --- |
| Date / House | Action | Journal |
| 2/9/2016 Asm. | Senator Nass added as a cosponsor | |
History
Topics: State | No Comments »
Brothers, FYI
Texas Sen. Ted Cruz led the Republican field in the Iowa caucuses, claiming 28 percent of the vote Monday night and beating out national front runner Donald Trump in a victory fueled by a strong turnout from evangelical voters.
In what Iowa party leaders are calling the closest Democratic caucus ever, Secretary of State Hillary Clinton and Vermont Sen. Bernard Sanders were locked in a virtual tie for most of the evening. Early Tuesday morning,
the state party announced
 that Clinton achieved a slight edge in delegate counts, with just one precinct still out. The third Democratic candidate, former Maryland governor Martin O'Malley, received less than 1 percent of the vote and suspended his campaign.
On the Republican side, Trump's populist insurgency fell short in the face of Cruz's political organizing across Iowa. Trump won 24 percent of the vote, and Florida Sen. Marco Rubio made a surprisingly strong showing at third, with 23 percent.
"Tonight is a victory for the grassroots," Cruz said as he claimed victory. "Tonight is a victory for courageous conservatives across Iowa and for courageous conservatives across this great nation."
Rubio was clearly delighted with his share of the caucus votes, higher than that predicted in the polls. "This is a night they said would never happen," he told supporters.
A more subdued Trump congratulated Cruz, and said "We finished second, and I want to tell you something, I'm just honored."
None of the remaining GOP candidates received more than 10 percent of the caucus votes. Former Arkansas governor Mike Huckabee, who won the Iowa contest in 2008, announced Monday night he was suspending his campaign.
On the Democratic side, the state party reported early Tuesday morning that Clinton was awarded  699.57 state delegate equivalents,   Sanders was awarded 695.49 state delegate equivalents, and O'Malley received 7.68 state delegate equivalents
In a Monday night speech, Clinton commended Sanders and O'Malley for "a real content of ideas." She pledged to continue to expand access to health care, address climate change, enhance gun safety, improve the education system and make college more affordable.
"I am a progressive who gets things done for people," Clinton said, standing on stage with her husband, former president Bill Clinton, and her daughter. "I am honored to stand in the long line of American reformers who make up our mind that the status quo is not good enough, that standing still is not an option."
Sanders followers chanted "Feel the Bern," and they cheered wildly as Sanders declared the evening a "virtual tie" against the "most powerful political organization in the United States of America. He hit on his campaign themes of college affordability, income inequality and campaign finance reform.
"The people of Iowa have sent a very profound message to the political establishment and to the media establishment, and that is given the enormous crises facing these country it is just too late for establishment politics," he told supporters.
Topics: National | No Comments »
CLEVELAND, January 19 — The Teamsters Rail Conference is adding its voice to the dozens of elected officials, shippers and labor unions that strongly oppose an apparent attempt at a hostile takeover of Norfolk Southern (NS) by the Canadian Pacific Railway (CP).
The Rail Conference represents more than 70,000 active railroad workers whose constituent unions are the Brotherhood of Locomotive Engineers and Trainmen (BLET) and the Brotherhood of Maintenance of Way Employes Division (BMWED). The group stated its opposition to the forced takeover attempt in a letter from Rail Conference President Dennis R. Pierce to the Surface Transportation Board (STB) dated January 18, 2016.
Instead of the "substantial value creation" identified by CP in its December 16, 2015 presentation to investors, the Rail Conference predicts the opposite. CP's hostile takeover of NS would trigger a round of additional Class I rail mergers, eventually reducing the industry to just two transcontinental railroads, "which is not in the best interests of our members, U.S. shippers or the public." It could lead to a "death spiral" of job cuts and deferred plant and equipment maintenance industry wide, resulting in the loss of vital service — similar to the crisis that crippled rail service in the Northwest and Midwest between the 1960s and late 1970s.
Pierce, who is also National President of the BLET, raised questions about CP's reliance upon a voting trust to move ahead with the forced takeover outside of the STB's standard rail merger approval process. "At the very least, the Board should immediately make clear to CP that it will not tolerate any attempt to short-circuit the process set forth in the law and accompanying STB regulations."
President Pierce concluded: "CP's proposal — while it may be good for Wall Street, hedge funds and certain investors — is bad for the shippers, bad for the railroads' workers, and bad for the public. I urge the Board to reject any and all attempts at this hostile takeover, and thank you in advance for your most serious consideration of our position."
The Teamsters Rail Conference represents more than 70,000 rail workers employed as locomotive engineers, trainmen and maintenance of way workers across the United States as members of the BLET and BMWED. International Brotherhood of Teamsters Vice President John Murphy serves as Director of the Rail Conference. Teamsters Vice President at Large Freddie N. Simpson is National President of the BMWED.
A PDF copy of the Rail Conference letter is available from the BLET National Division website:
http://www.ble-t.org/pr/pdf/Rail_Conf_STB_CP_NS_Letter.pdf
Topics: National | No Comments »
Fellow Union Brothers and Sisters,
To begin, I am pleased to announce that the WISLB has started a Facebook page. The purpose and intent of this page is to keep the membership up to date in the activities of the Board and also as a tool to pass information as quickly and effectively as possible. As a reminder, the duties of the Board are primarily Safety and Legislative issues and actions. Any contractual questions or issues should be referred to your respective General Committee representative. Further, we all have different views on what's going on in the world, the intent of the page should remain on the issues on hand and not as a personal forum.
We as labor members in Wisconsin are in a very unique situation. Our Governor has entered the 2016 Presidential Race, and our concerns should be the action his administration has taken over his time in office and how that will relate to us on a national level. For example, "Right to work" has been implemented without hesitation or regard to the working class people of Wisconsin (notably after he stated "right to work" was not on his agenda). We must consider the impact of a national "right to work" law on us a railroaders. If such a law was passed the very core of how the BLET operates would be affected. One must remember that although the title sounds very catchy, the legislation itself has nothing to do with giving the worker any rights. It is meant simply to put labor organizations in a precarious financial situation, thereby limiting their ability to properly represent the membership. Essentially giving the railroad and or corporation total control in how it treats its employees. Working in this industry we all understand what the implications of that would be.
I would like to challenge all members to participate in the Political Action Committee (PAC) program with at least a $5 a month contribution. This money is specifically used to help ANY politician who helps us with the issues we are working on. As far as numbers go, on a national level we are being far outspent by the railroads in the political world.  According to last year's numbers, the BLET national total for PAC was approximately $512,000, however, the railroads spent over 6.4 million in PAC and over 34 million in lobbying politicians. This doesn't even include donations made from corporate treasury funds that is not accountable. For far less than a cup of coffee a day, your contribution to the PAC can have a positive influence in your career. Please contact your Division LR for an application and contribute to our cause.
Respectfully,
Chuck M. Schulz
Wisconsin State Legislative Board – Chairman
Teamsters – Brotherhood of Locomotive Engineers & Trainmen
2768 Oakwood Circle
Oshkosh, WI 54904
chairman@wislb.org
Cell /Office (920) 410-2953
Topics: WSLB Chairman | No Comments »
Posted: July 16, 2015 by laborradio
By Doug Cunningham
A criminal probe into Wisconsin Governor Scott Walker's 2012 recall campaign's coordination with right-wing groups was stopped
Thursday by the conservative-dominated Wisconsin Supreme Court. A group of prosecutors, including Republican prosecutors, had
been investigating possible illegal coordination between Scott Walker's campaign and the conservative organizations. An aggressive
legal attack from those groups sought to stop the criminal probe and Wisconsin's high court stopped the criminal probe for them.
Some of the Wisconsin Supreme Court justices refused to recuse themselves from this case, even though they received millions
of dollars in campaign funds from these right-wing groups. The Wisconsin Supreme Court ordered the criminal probe against
Walker stopped and all evidence gathered in the investigation permanently destroyed. Francis Schmitz, the lead prosecutor in
the investigation against Walker's campaign, says one or more of the justices should not have heard this case because the right
-wing groups being investigated had spent millions of dollars helping elect those supreme court justices.
Topics: State | No Comments »
Today, Assembly Speaker Rep. Robin Vos held a press conference to unveil his plan to lower wages and weaken prevailing wage standards for hard-working people in Wisconsin. Rep. Vos conceded that there is no quantitative study that shows that repealing or weakening prevailing wage laws achieve cost savings for the state.But, in an attempt to continue to pay back large donations and please the Koch Brothers' front-groupAmericans For Prosperity, Rep. Vos is continuing down a disheartening path of enacting legislation that hurts working people and our middle class.

Even Republicans like Rep. Dan Knodl, who support this proposal, agree that weakening the prevailing wage will "drive down wages" in our communities and "decrease wages" for working people.

Prevailing wage makes sure that taxpayer-funded projects use local workers who make a living wage; this contributes to the overall well-being of local economies. Prevailing wage strengthens the middle class and lifts up all workers. With prevailing wage, construction projects are top-quality because highly-skilled, well-trained workers are able to complete projects on time and on budget. Prevailing wage creates value through good wages for workers, stability for contractors and safe, sound and sturdy construction buildings for citizens. Protecting prevailing wage laws are essential for a strong and stable middle class.

From today's press conference, it appears that attacks on the prevailing wage will be either snuck into the budget or pursued through independent legislation. Currently, the 2015-2017 Wisconsin budget is still being debated in the Joint Finance Committee. Along with weakening the prevailing wage, the budget is full of bad things for working people – all which hurt Wisconsin and take us backwards.

Join us as we make phone calls to fix the budget. Volunteers are working to connect union members with their elected officials so they can hear from REAL people about this budget. Be part of the process! Click here to join us in raising the voices of working people and involving more citizens in the budget process.

From cuts to K-12 education, the privatization of homecare, job cuts for prison guards and attacks on our UW-System — this budget is all wrong for working class Wisconsinites. Driving down wages by weakening prevailing wage only makes a bad budget worse.  Click here to find a budget phone bank near you!

In Solidarity,

Phil Neuenfeldt, President

Stephanie Bloomingdale, Secretary-Treasurer
Topics: State | No Comments »
(The following is a joint statement by Dennis R. Pierce, National President of the Brotherhood of Locomotive Engineers and Trainmen, and John Previsich, President, SMART Transportation Division, regarding questions that have arisen since the fatal Amtrak derailment in Philadelphia on May 12, 2015.)

Previsich
CLEVELAND, May 19 — Members of BLET's Safety Task Force and SMART Transportation Division's National Safety Team, in addition to representatives from the Brotherhood of Maintenance of Way Employees Division of the Teamsters Rail Conference (BMWED), are working with the National Transportation Safety Board (NTSB) to assist in the investigation of the catastrophic May 12 derailment of Amtrak Train 188.
Significant progress has been made in understanding how the accident occurred on May 12. That portion of the investigation is not yet complete, however, and even more work needs to be done to determine why the events of that tragic night transpired the way they did.
BLET and SMART TD do not make official comments about any ongoing NTSB investigation. Due to the number of press inquiries concerning issues not under investigation, however, we are providing the following information on why Amtrak trains on the Northeast Corridor are manned by a lone engineer in the control cab and why Positive Train Control (PTC) has not been installed on the Corridor.  The answers to both questions begin with the United States Congress.

Pierce
Why a One-Person Train Crew?
In 1981, Congress passed legislation (the Northeast Rail Service Act of 1981) that ended the previous Conrail requirement that there be a second crew member in the control cab of commuter rail trains on the Northeast Corridor.  Armed with that legislative precedent — and mindful of where its funding originates — Amtrak has since 1983 refused to crew Northeast Corridor trains with more than one employee in the cab – the locomotive engineer.  Although BLET and SMART TD have steadfastly maintained that there should be two crew members in the cab of all trains to ensure public safety, only Congress can change the 1981 legislation that reduced crew size on the Northeast Corridor.   But this is only one piece of a very large, complex puzzle.
Why No Positive Train Control?
On the heels of another catastrophic railroad accident in Chatsworth, Calif., the federal government mandated in 2008 that Positive Train Control (PTC) be put in effect by the end of this year.  That was seven years ago. Even with that mandate in place, and with the exception of some railroads such as BNSF Railway, the industry at large has spent the interim finding reasons to avoid implementing PTC technology. They have created the situation about which they all now complain — they say they cannot meet the December 31, 2015 deadline.  Each death caused by the delay of PTC implementation is one too many, yet Congress is preparing to consider a blanket 5-year extension to 2020.  This is most certainly not in the public interest.
Since 2005, the NTSB has completed 16 investigations of railroad accidents that could have been prevented or mitigated with PTC. These 16 accidents claimed 52 lives — many being BLET and SMART TD members — and injured 942 people, with damages totaling hundreds of millions of dollars. NTSB has publicly stated that the accident on May 12, 2015 was also PTC preventable. There is no disagreement over the value of PTC technology.
That said, there is no technology available today that can ever safely replace a second crew member in the cab of the locomotive.  The only thing on a locomotive that is not a machine is the crew. The uncontrolled external environment in which trains are operated along with regulatory and operational demands of a safe transportation service demand a crew of at least two fully trained and qualified employees in the control cab of every train. PTC is only a safety overlay that ensures a safer operation, and no technology can replace the level of safety provided when two crew members are on board and can serve as a check and balance to one another.
Even with all the safety-related technology that the government has mandated on commercial airlines, the public would never accept an airline operation with a single person in the cockpit. There is no reason that rail employees and rail passengers' lives should be viewed any differently.
Contrary to what some in government may say, the only place that crew size and PTC do connect is when it comes to funding. That is especially true in the case of Amtrak, because the government has woefully underfunded Amtrak since its inception. Additional crew members and new technology both cost money, and so long as those in Congress see fit to underfund the operation, they undermine their own mandate and shortchange the safety of the traveling public.
# # #
The Brotherhood of Locomotive Engineers and Trainmen represents more than 55,000 professional locomotive engineers and trainmen throughout the United States. The BLET is the founding member of the Rail Conference, International Brotherhood of Teamsters.
The SMART Transportation Division is headquartered in the Cleveland suburb of North Olmsted, Ohio. It is a broad-based, transportation labor union representing about 125,000 active and retired railroad, bus, mass transit and airline workers in the United States. It is a division of the International Association of Sheet Metal, Air, Rail and Transportation Workers based in Washington, D.C.
Topics: National | No Comments »
CLEVELAND, June 8 — The U.S. Railroad Retirement Board (RRB) has announced a schedule of dates for the agency's fall 2015 Informational Conferences and Pre-Retirement Seminars.
Informational Conferences will be held in 14 locations across the country, beginning September 11 in Roanoke, VA, and Duluth, MN. Started nearly 60 years ago by the RRB's Office of the Labor Member, the conferences provide rail union officers with a comprehensive overview of the provisions and financing of the railroad retirement and unemployment insurance systems. These officials, in turn, pass on to their fellow rail labor membership the information acquired at the conferences.
Pre-Retirement Seminars are planned for August 28 in Houston, TX, and September 18 in Chicago, IL. Designed for railroad employees and spouses planning to retire within 5 years or less, the seminars familiarize attendees with the retirement benefits available to them, and also guide them through the application process. The program began in 2014 on a pilot basis.
Informational Conferences are open to union officials and their spouses by invitation only. Labor representatives who do not receive an invitation to a conference in their area should contact the RRB toll-free at 1-877-772-5772 and request that they be added to the agency's invitation database. Registration for each conference begins at 8 a.m., with the program starting at 8:30 a.m. and concluding at 12:15 p.m.
Pre-Retirement Seminars are open to the railroad public. However, persons wishing to attend are asked to print and complete a registration form, which is available by visiting the RRB's website at www.rrb.gov, and selecting the Office of the Labor Member's Educational Materials link in the Spotlight section of the home page. Seminar space is limited and registration is accepted on a first-come, first-served basis. Completed forms should be mailed or faxed to the RRB office listed on the form as soon as possible. Check-in for each seminar begins at 8 a.m., with the program starting at 8:30 a.m. and concluding at 12:30 p.m.
Individuals who have not previously submitted documents required when filing a railroad retirement annuity application, such as proofs of age, marriage, or military service, are encouraged to bring this material (original documents or certified copies required) to the seminar. Attendees should also bring along an additional copy of each item to leave with the RRB field personnel leading the seminars.
Those unable to attend the seminars but still seeking pre-retirement information should contact the RRB. Individual retirement counseling is available in person at an agency field office, or by phone by contacting the RRB toll-free at 1-877-772-5772.
Fall 2015 Informational Conference Schedule
SEPTEMBER
11 – Roanoke, VA
11 – Duluth, MN
18 – Fort Worth, TX
18 – Harrisburg, PA
25 – Salt Lake City, UT
25 – Milwaukee, WI
OCTOBER
9 – Spokane, WA
9 – Nashville, TN
16 – Louisville, KY
16 – Pittsburgh, PA
23 – Philadelphia, PA
NOVEMBER
6 – Houston, TX
20 – New Orleans, LA
DECEMBER
4 – Tampa, FL
Fall 2015 Pre-Retirement Seminar Schedule
Visit www.rrb.gov and select the Office of the Labor Member's Educational Materials link in the Spotlight section of the home page for registration forms and contact information for the following seminars.
RRB Office: Houston
Date: Friday, August 28, 2015
Location: Leland Federal Building, 1919 Smith Street, 1st Floor Conference Room, Houston, TX 77002 Phone: 877-772-5772.
RRB Office: Chicago
Date: Friday, September 18, 2015
Location: Lipinski Federal Building, RRB Headquarters, 844 N Rush Street, 9th Floor Auditorium, Chicago, IL 60611, Phone: 877-772-5772.
Monday, June 08, 2015
bentley@ble-t.org
Topics: National | No Comments »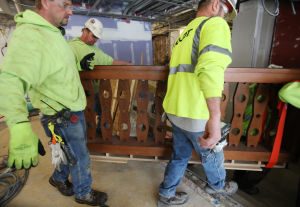 Online at WisconsinDevelopment.com – Searchable at Search WDN – WDN Tool Box, Links you can use everyday to help you and Wisconsin grow! Edited and published by Ken Harwood
Ken Notes: "Ken Notes" may always be reprinted, shared, even disagreed with. If you like an ideas steal it – credit would be nice but not required. I am Ken Harwood Editor of WisconsinDevelopment.com and an advocate for Wisconsin. I also edit WDNGreen, MadisonNotes, DriftlessNotes, WisconsinApprentice, and others.
Scott Walker says he would sign prevailing wage repeal
Wisconsin – 5/28/2015 Gov. Scott Walker would sign a bill repealing the states prevailing wage if it passes the Legislature, his spokeswoman said Wednesday.
Laurel Patrick made the comments as an Assembly committee heard testimony on a repeal bill, which the committee later approved 5-4.
Walker has said prevailing wage wasnt a priority, and he has faced criticism from fellow Republicans for not more forcefully backing the legislation….
Ken Notes: Would it not make more sense to fix this law rather than repeal it? Exceptions for "apprentice" and "in training" laborers for example… …Display And/Or Share This article
Topics: State | No Comments »
« Previous Entries
Next Entries »