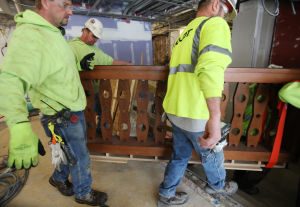 Online at WisconsinDevelopment.com – Searchable at Search WDN – WDN Tool Box, Links you can use everyday to help you and Wisconsin grow! Edited and published by Ken Harwood
Ken Notes: "Ken Notes" may always be reprinted, shared, even disagreed with. If you like an ideas steal it – credit would be nice but not required. I am Ken Harwood Editor of WisconsinDevelopment.com and an advocate for Wisconsin. I also edit WDNGreen, MadisonNotes, DriftlessNotes, WisconsinApprentice, and others.
Scott Walker says he would sign prevailing wage repeal
Wisconsin – 5/28/2015 Gov. Scott Walker would sign a bill repealing the states prevailing wage if it passes the Legislature, his spokeswoman said Wednesday.
Laurel Patrick made the comments as an Assembly committee heard testimony on a repeal bill, which the committee later approved 5-4.
Walker has said prevailing wage wasnt a priority, and he has faced criticism from fellow Republicans for not more forcefully backing the legislation….
Ken Notes: Would it not make more sense to fix this law rather than repeal it? Exceptions for "apprentice" and "in training" laborers for example… …Display And/Or Share This article
Categories: State
No Comments »
« Assembly Democrats | Home | RRB announces fall 2015 dates for Informational Conferences, Pre-Retirement Seminars »